Home
The 14th Aegean Retina Meeting will be held on the cosmopolitan Island of Mykonos, Greece from July 4 – 6, 2015, at Royal Myconian Resort. Many of us have attended this bi-annual meeting since its inception in 1989, when Evangelos Gragoudas of the Massachusetts Eye and Ear Infirmary and Ioannis Pallikaris of the University of Crete brought international retinal specialists together for a unique meeting in the Aegean region. We would like to invite you to join us at "The Aegean".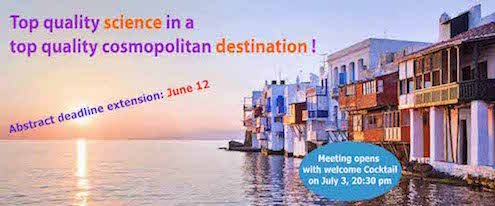 Aegean Retina is unusual in that the tone of the meeting is distinctly casual, yet the content of the scientific program is uniformly innovative and informative. Since its inception, Aegean Retina attendees have presented the first scientific papers on photodynamic therapy (PDT), the use of digital images in ophthalmology, and anti-VEGF strategies for macular degeneration. Furthermore, innumerable surgical innovations, neuro-protective approaches, and pearls regarding tumor and retinal disease management have been shared. Unlike many meetings, ample time is given for discussion during the sessions, and the number of participants is limited for this reason. The structure of our meeting also gives both attendees and their guests considerable time to explore the island of Mykonos, or spend a leisurely day at the shops and restaurants. In addition, we welcome your participation in the legendary social program, one that is specific to each venue. The weather is consistently beautiful this time of the year.
This year's meeting, the 14th of a successful series, promises to be memorable both in its scientific and social aspects. We also encourage both young fellows and more senior colleagues to present a case and/or a paper in one of our sessions.
Please come and experience "The Aegean" in Mykonos, one of the most cosmopolitan islands on Earth!
The Organizing Committee




Thomas Friberg - Constantin Pournaras - Dean Eliott  -  Miltiadis Tsilimbaris