Crete
Crete is the largest of all the Greek islands. With a total surface of 8,336 sq m it has 1,100km of coastline and approximately 600,000 inhabitants. Crete is also considered to be one of the most prosperous areas in Greece. Development on the island has been favoured by its geographical location, climate and diverse natural beauty, as well as its unique cultural and historical heritage. Crete is renowned for its breath-taking mountain ranges and long sandy beaches that take you right down to its deep-blue seas.
The climate and geography of Crete provide for many different species of wildlife. Over 100 different sorts of flowers and plants can be found: in the high mountains and the thirteen deep gorges on the island (the best known of which is Samaria gorge). Visitors may encounter interesting flora and fauna in its valleys and semi mountainous areas, including the rare species of wild goat called the kri – kri, unique to this area. Crete is noted for its geographical diversity, which ranges from numerous small surrounding islands to splendid plateaus like Lassithi, with its eye-catching windmills.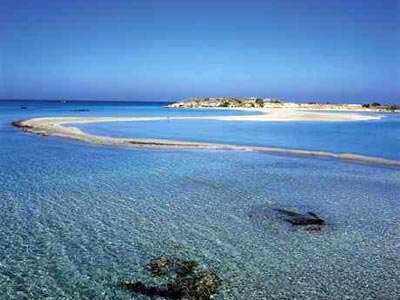 Heraklion: Heraklion is the capital of Heraklion Prefecture, with an  international airport named after the writer Nikos Kazantzakis. The ruins of Knossos, which were excavated and restored by Arthur Evans, are nearby. For more information in relation to the city and its great history please visit: http://en.wikipedia.org/wiki/Heraklion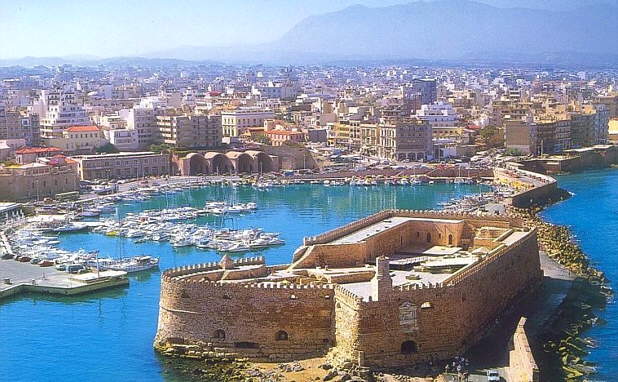 Useful Information on Crete, Greece
Time: Local Time is GMT +2 (GMT +3 between the last Sunday in April and the last Sunday in October).
Electricity: Electrical current is 220 volt, 50Hz. A variety of plugs are in use including the European-style two-pin and the round three-pin.
Money: The Euro is the official currency, divided into 100 cents.
Language: Greek is the national language, English is widely spoken.
Climate: Crete enjoys hot, dry summers and mild winters. Temperatures in July and August range from 26o C to 32o C. Rainfall is almost non-existent in summer but showers can be expected between October and April.
Telephone: The international access code for Greece is +30, 2810 the prefix for Heraklion.
Flights: There are numerous daily flights connecting Heraklion Airport (HER) with Athens (ATH) and other major European Cities. Two ferryboats depart daily in the afternoon from the port of Piraeus to the port of Heraklion and return.