LASIK – Femtosecond LASIK
Conventional method (LASIK):
In this method, the correction of myopia is not conducted in the surface of the cornea but under a thin surface layer (flap) created with a special tool. Initially, the surgeon places the tool for the separation of the flap which remains attached with the cornea in its upper side, and after the flap lift, the laser beam corrects the refractive error by changing the curvature of the cornea. Afterwards, the surgeon places back the flap in its position. The duration of this procedure is a few minutes for the each eye and it is painless due to the use of anesthaetic drops. This method was invented 20 years ago by professor Ioannis Pallikaris in the University of Crete and today is the most popular refractive operation in the world.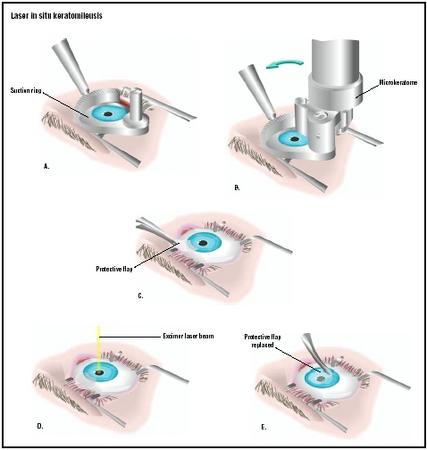 Femtosecond LASIK: the most modern method of refractive correction exclusively with laser use.
Our Lab, uses the latest technology for the creation of the surface petal (flap) for LASIK: the last generation laser iFS Advanced Femtosecond Laser and the newly arrived Femtosecond Laser 200 Hz Alcon Wavelight. This laser replaces the use of the mechanical microkeratome for the creation of the flap. One of the advantages of this laser is the precision of the incision with characteristics and dimensions that the surgeon selects, depending on the particular anatomy of each patients' eye. Subsequently the surgeon uses a laser beam to change the curvature of cornea as in the conventional LASIK and to correct the refractive error of the eye. The rehabilitation of the visual acuity is immediate, hence the patients can see clearly after surgery.   The procedure lasts a few minutes for each eye and it is conducted under local anesthesia.
LVO is one of the few opthalmological centers worldwide that own and use 2 different kinds of last generation Femtosecond Laser.